Product Details
Condition:Brand New
Type:Service Manual
Brand:Komatsu
Product Description
<meta http-equiv="Content-Language" content="en-us"><meta http-equiv="Content-Type" content="text/html; charset=windows-1252"> <!-- MSTableType="layout" --> This service manual covers the Komatsu D120A-18 & D125A-18 Bulldozer. This is a BRAND NEW manual. Never used, no missing pages, no grease or coffee stains and no writing or scribbling. Its a good size book with about 300 or so pages. It also has color diagrams. Here are the sections of the manual: GENERAL, SPECIFICATIONS, GENERAL INSTRUCTIONS, ENGINE, CLUTCH, TORQUE CONVERTER, TRANSMISSION, TORQFLOW TRANSMISSION, BEVEL GEAR & BEVEL GEAR SHAFT, STEERING SYSTEM, FINAL DRIVE, UNDERCARRIAGE, FUEL TANK & LIGHTING SYSTEM, DOZER EQUIPMENT, HYDRAULIC SYSTEM, MAINTENACE STANDARDS.
SERIAL NUMBERS COVERED - 2450 & UP
Not the manual you need? I have others to list so just ask and I may have what you need.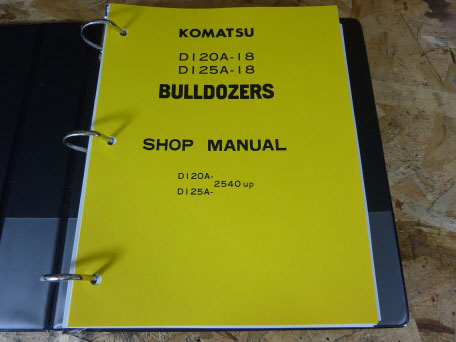 Click picture to enlarge